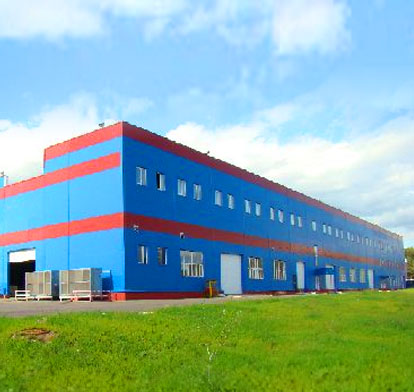 The SINIKON company is a Russian manufacturer of high-quality European wastewater products. The SINIKON company produces polypropylene pipes and fittings for internal sewage.

The SINIKON Company was founded in 1996 and is the leading manufacturer and seller of sewage pipes in Russia. The co-founder of the company is the Italian VALSIR plant, which is part of FONDITAL International Holding (one of the world's leading manufacturers of heating, water supply and sewage systems).

SINIKON's production facilities and warehouse are located in the city of Troitsk, New Moscow, Russia.

SINIKON's work is based on the principle of constant improvement: we always upgrade production, introduce new technologies, and expand our range of products.

SINIKON is certified according to the European Union Standard DIN EN 1451-1 issued by the SKZ Institute in 2016. In 2015 SINIKON started the implementation of quality management system ISO 9001:2008 that was certified for compliance and confirmed in 2016 by international company TŰV Rheinland. In 2018 SINIKON obtained ISO 9001:2015.

In September 2017 SINIKON obtained the certificate of bona fide exporter under the governmental program "Made in Russia". The voluntary certification "Made in Russia" confirmed that the plant is a reliable manufacturer of Russian products and carries out on a regular basis deliveries abroad for export.

The company pays particular attention to educational programs: we have a conference room and training halls; highly qualified staff members from SINIKON's Training Centre regularly organize lectures, seminars, and master classes for engineering systems' specialists.

Thanks to new technologies and an expanding product range, the SINIKON Company offers a wide scale of polypropylene pipes and fittings. It ensures perfect compatibility of all components, reliability, comfort and long-term faultless operations.

Presently our factory has different lines and machines for producing pipes and fittings for internal sewage systems:
• SINIKON Standard - polypropylene push-fit pipes and fittings for the drainage of domestic wastewater (low and high temperatures – up to 95°C).
• Low-noise SINIKON Comfort Plus - Polypropylene push-fit pipes and fittings are produced with a mix of polypropylene and mineral fillers that guarantees high mechanical resistance, excellent acoustic performance and high resistance to agents. Such systems are in high demand in hotels and hospitals.